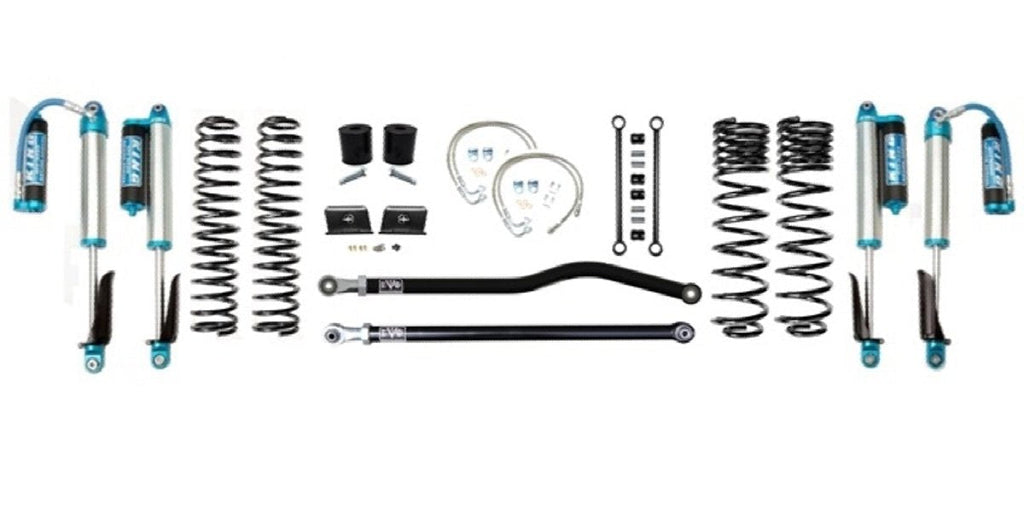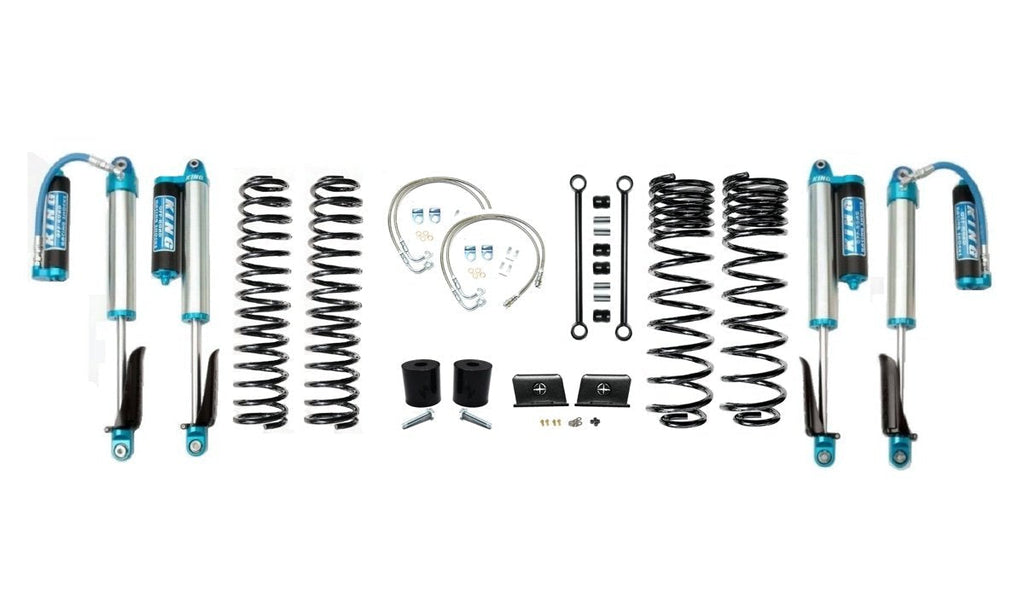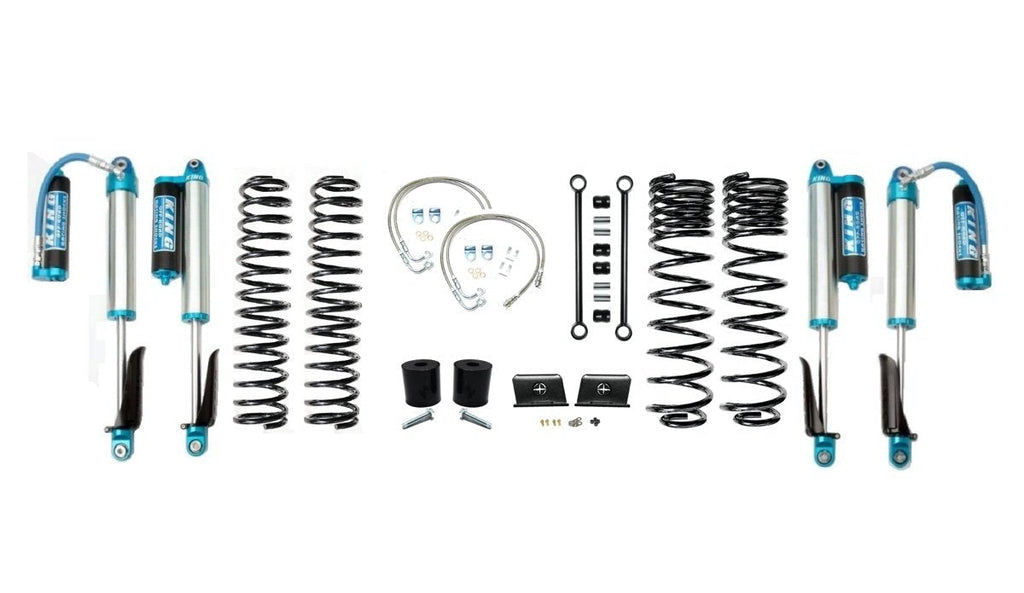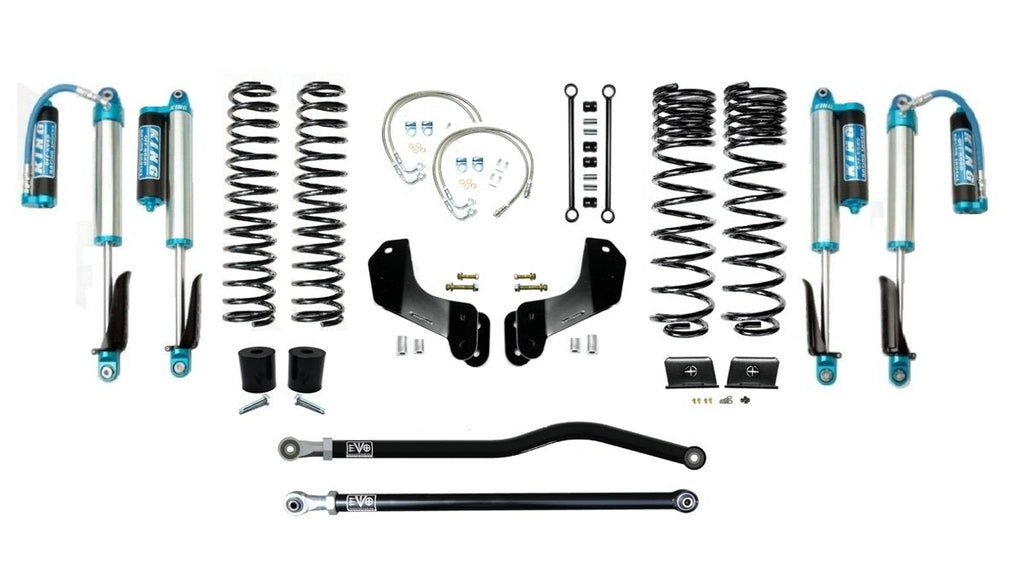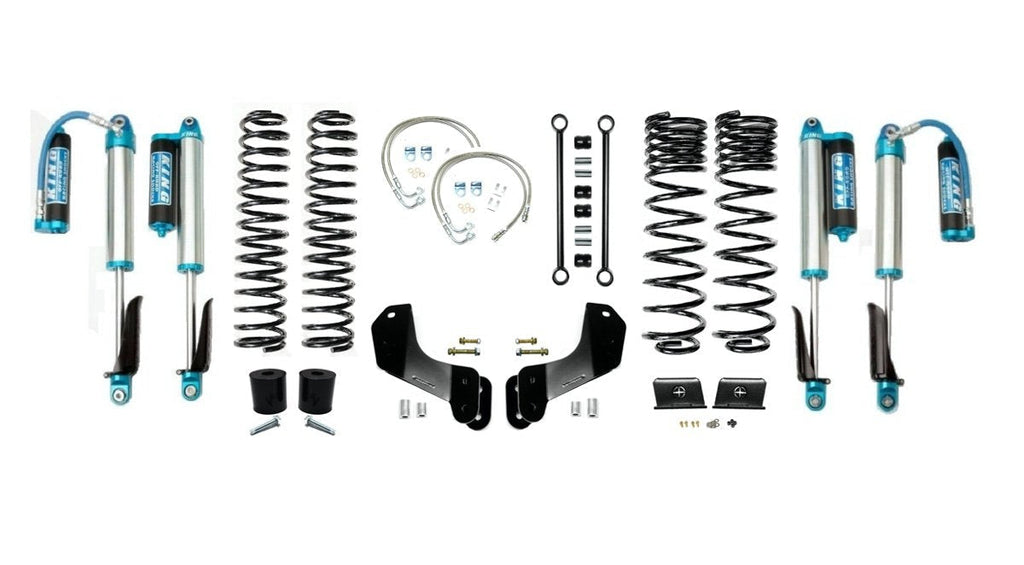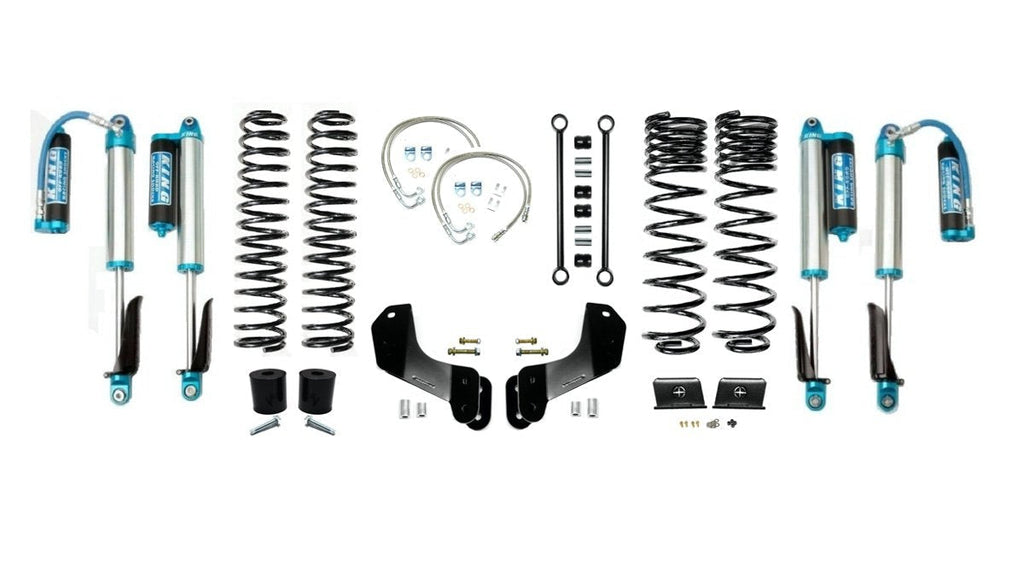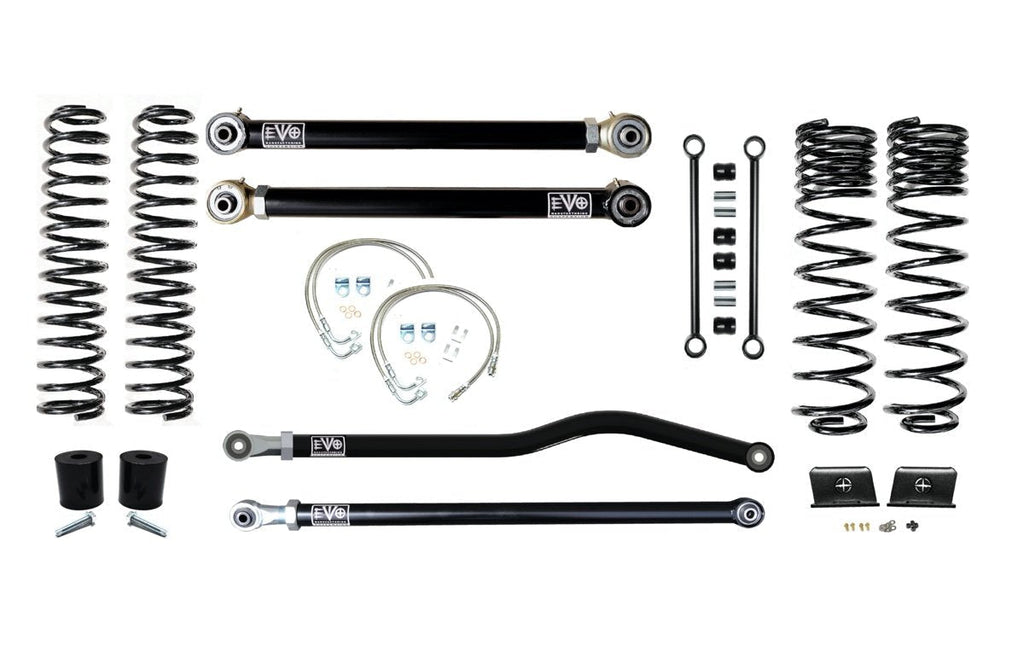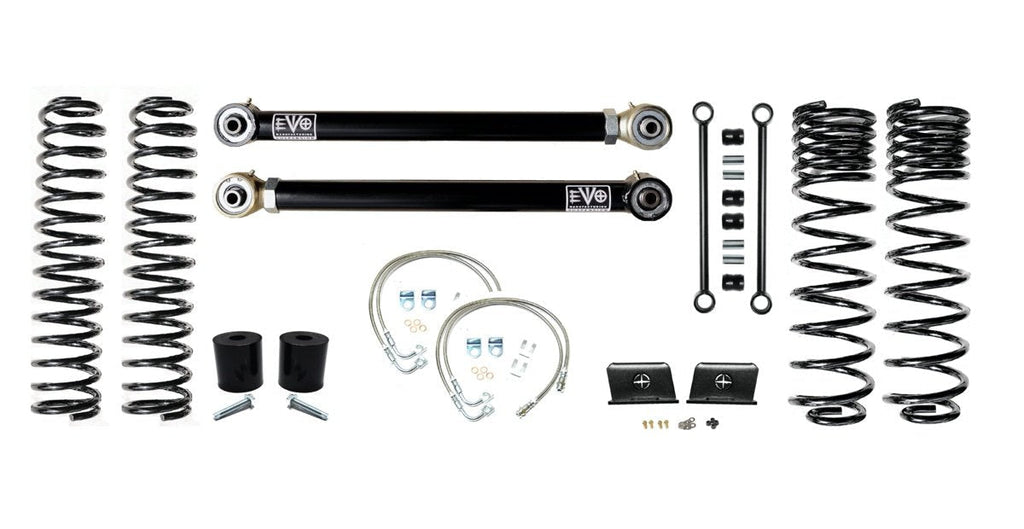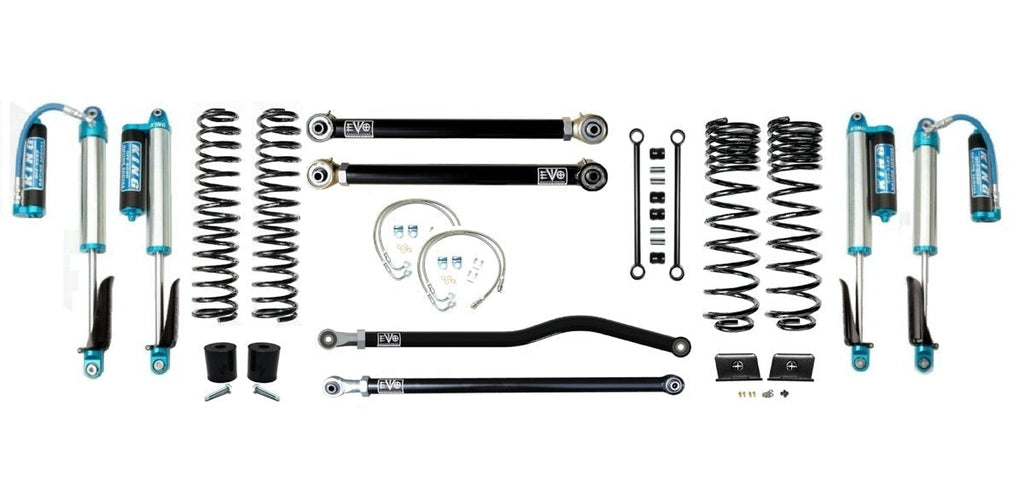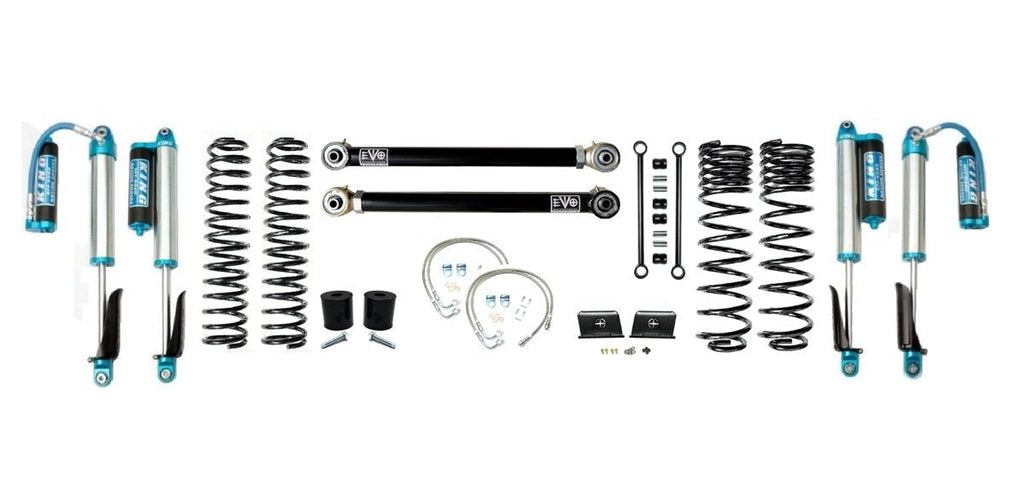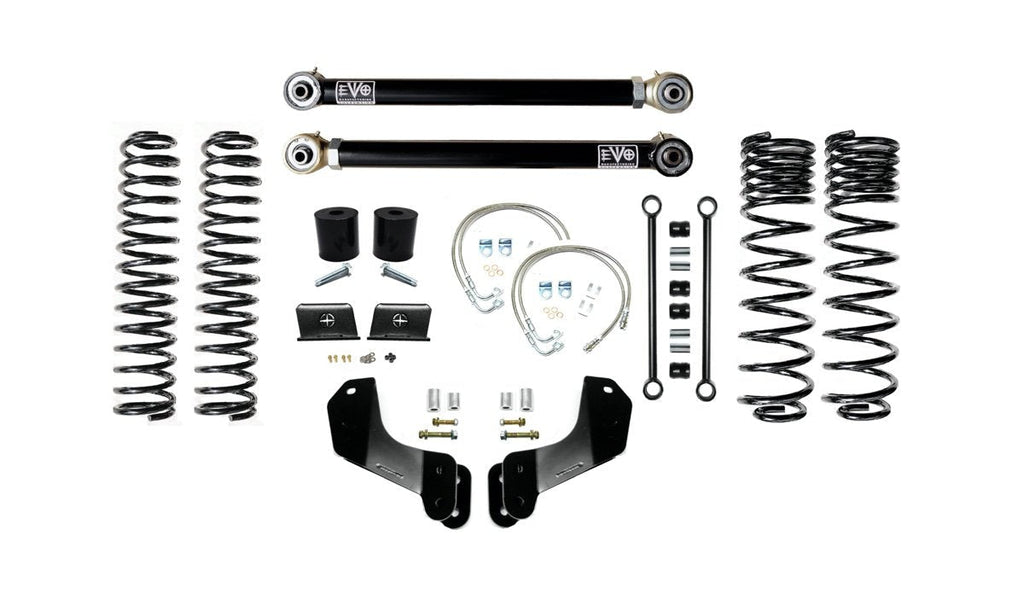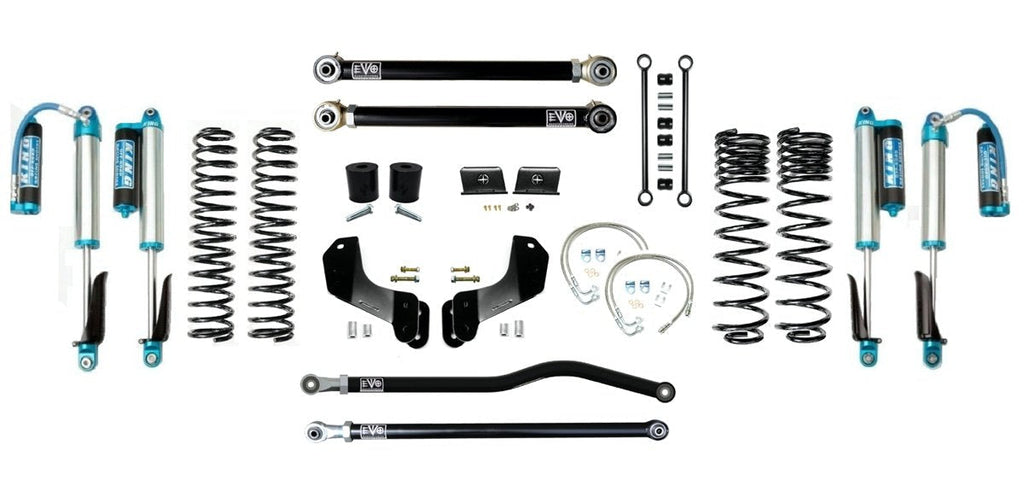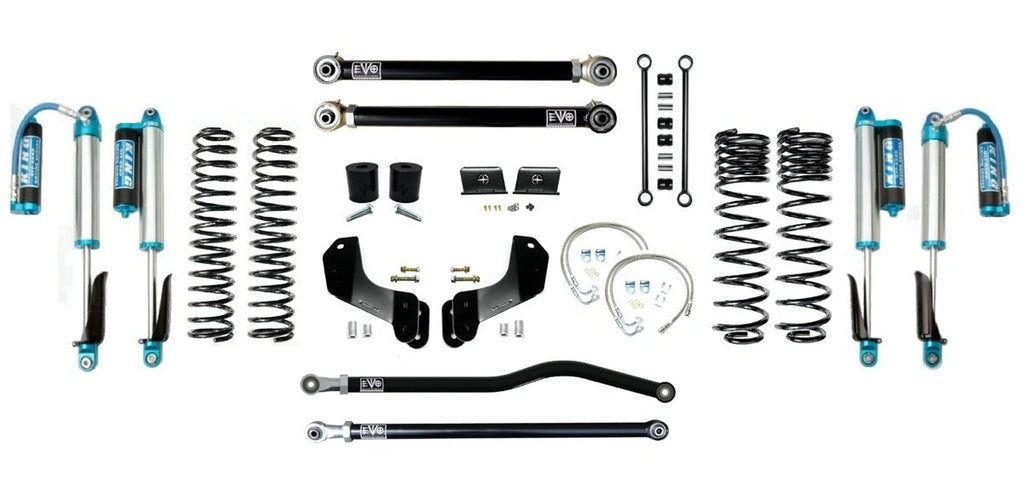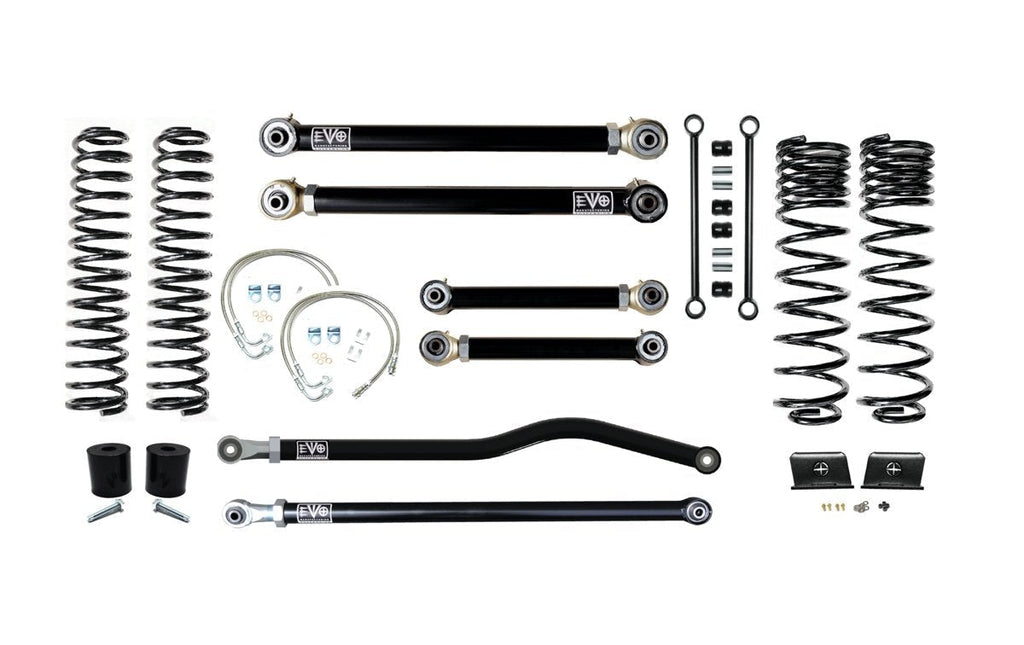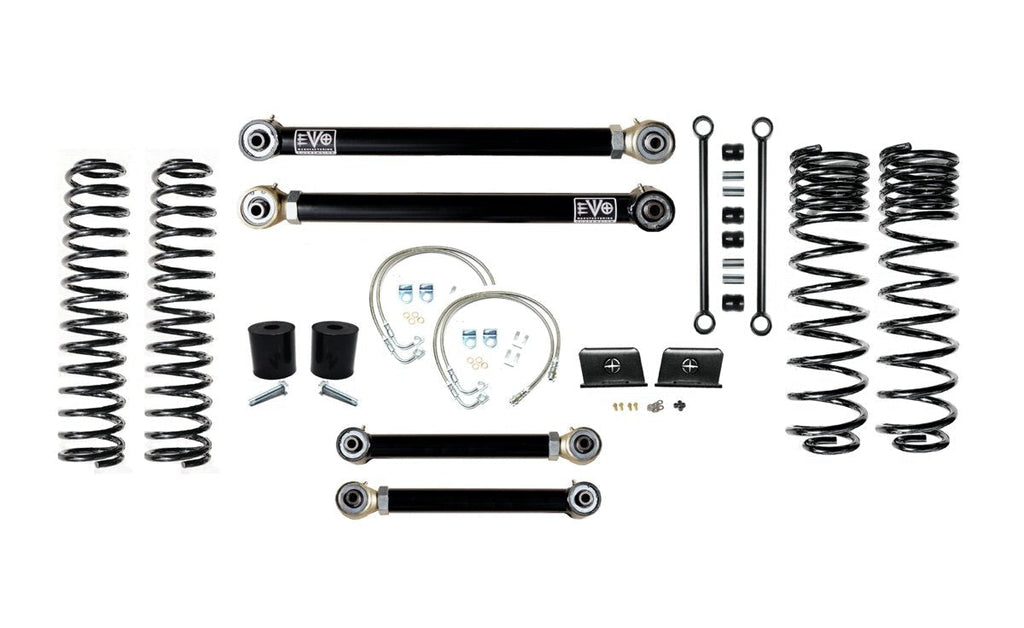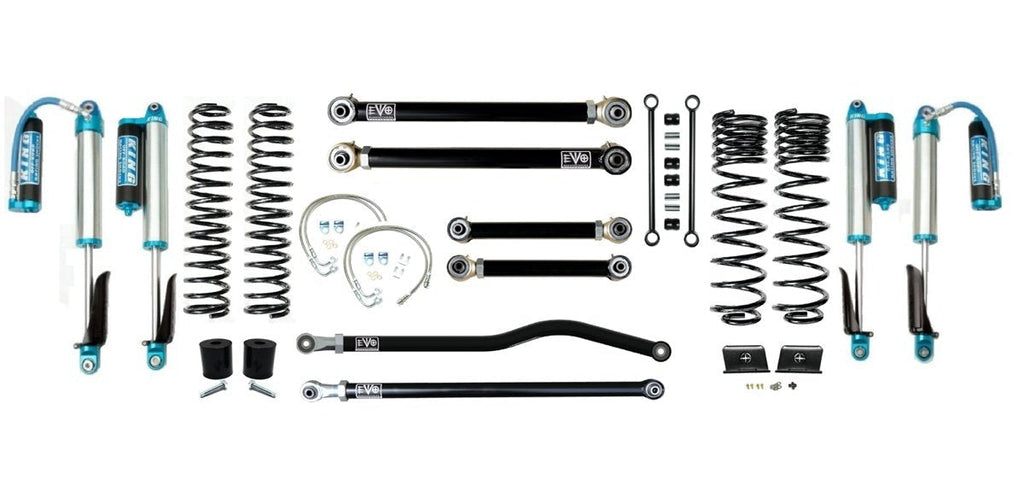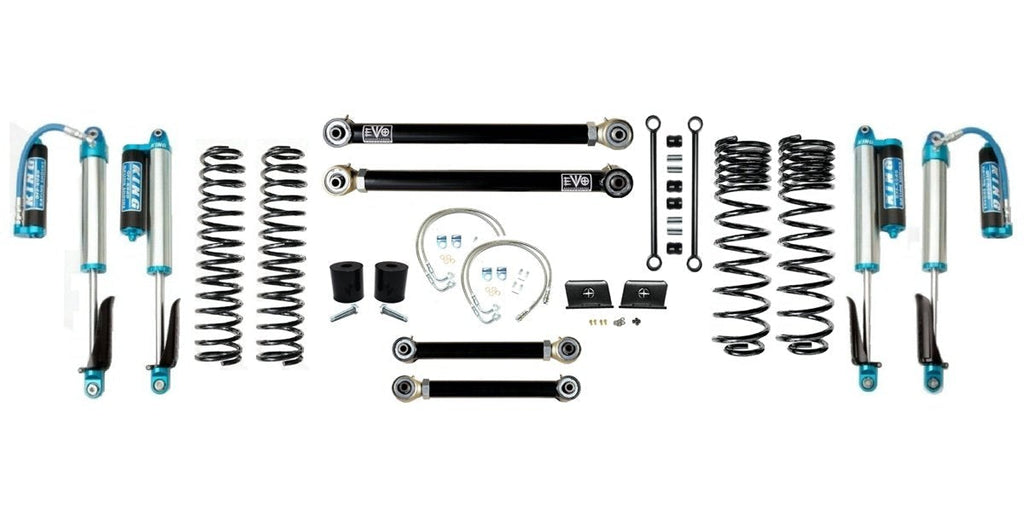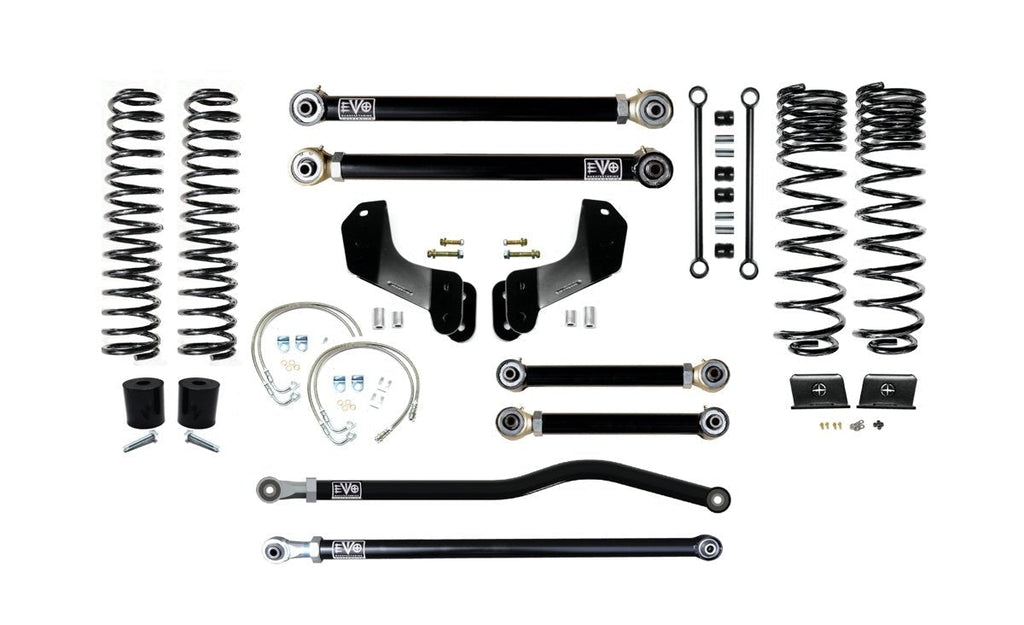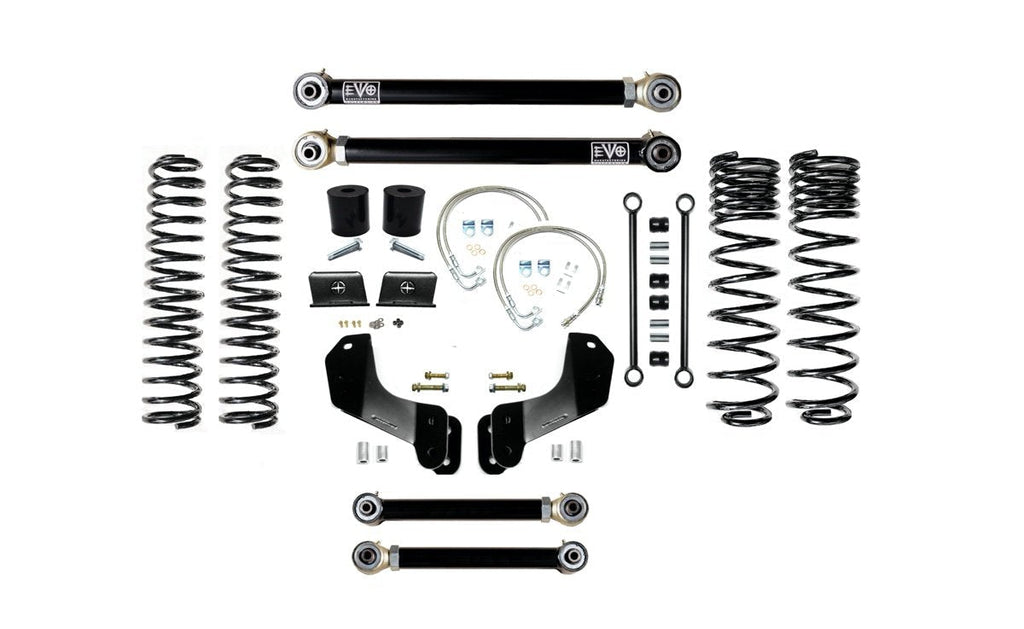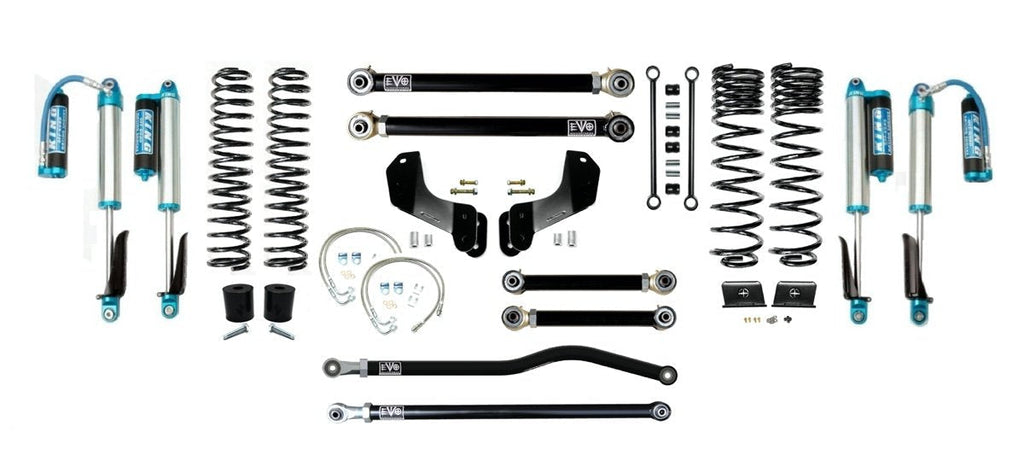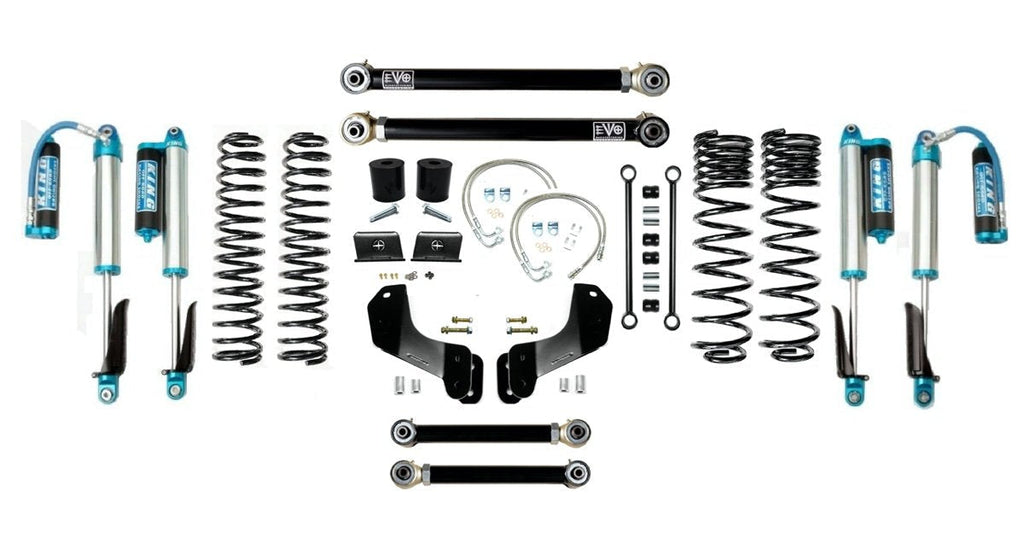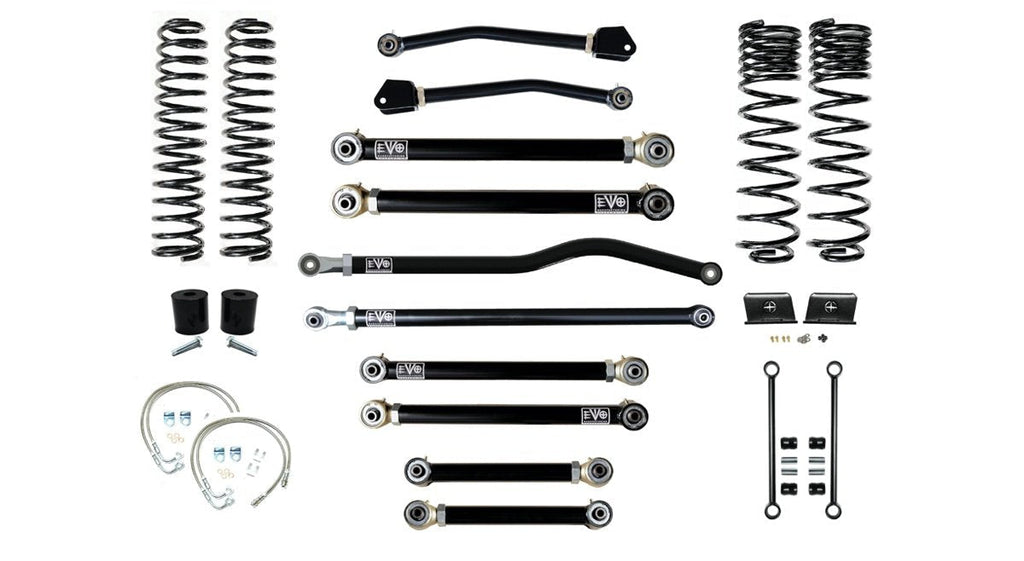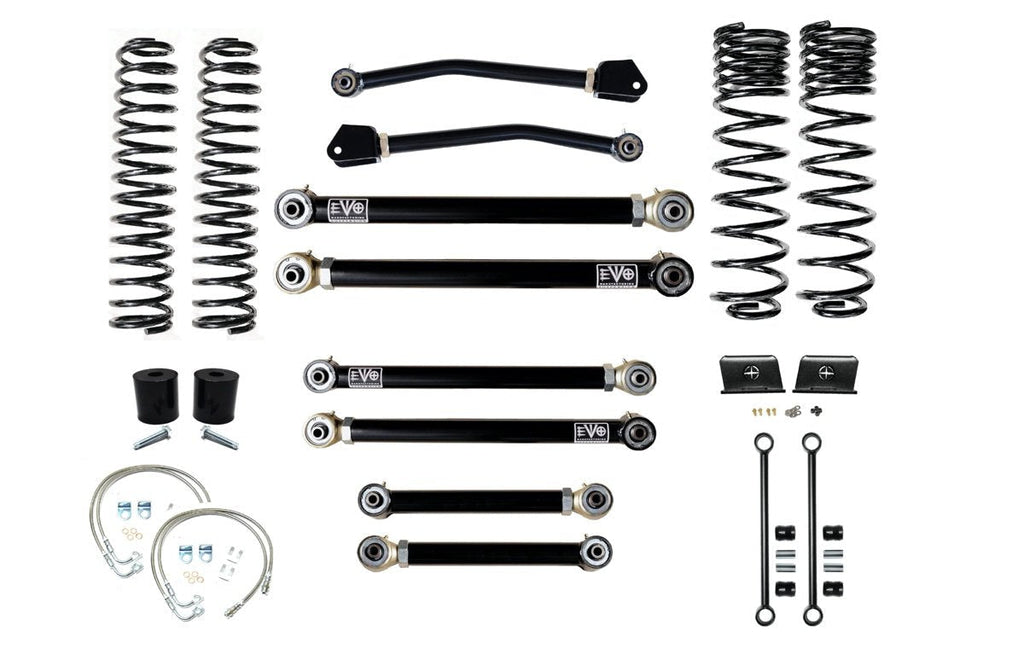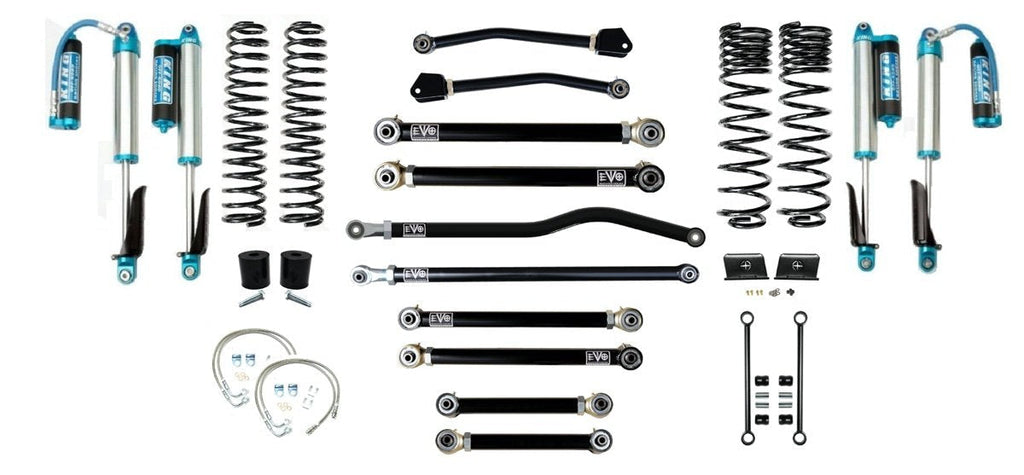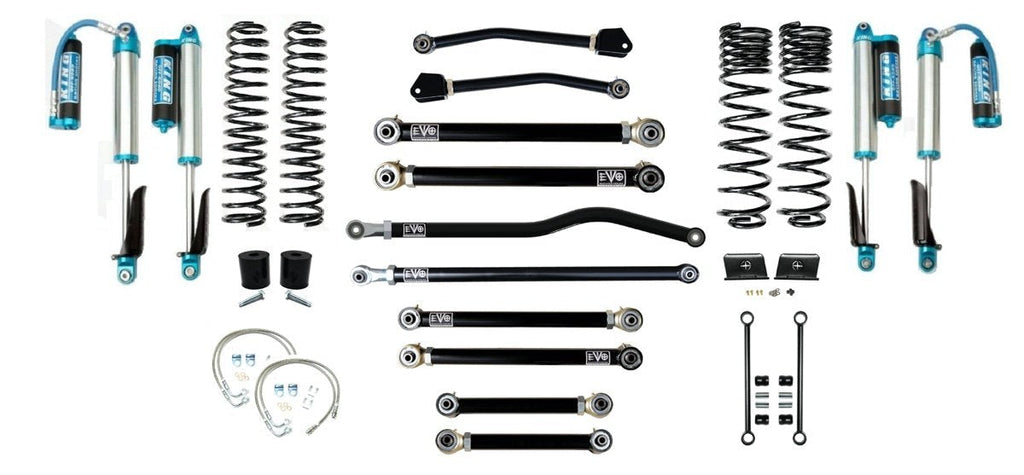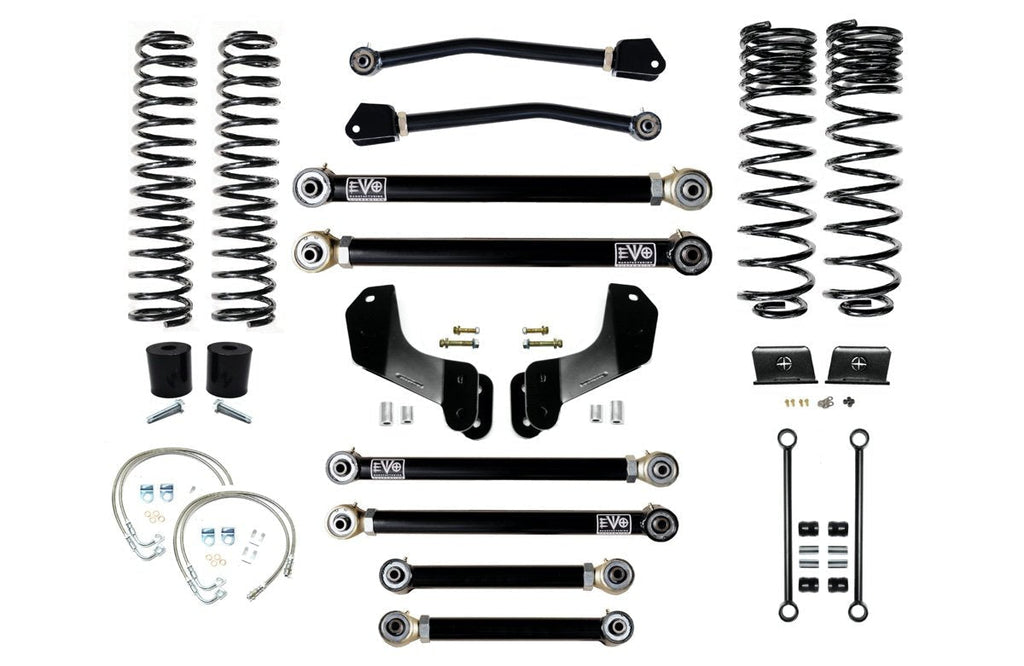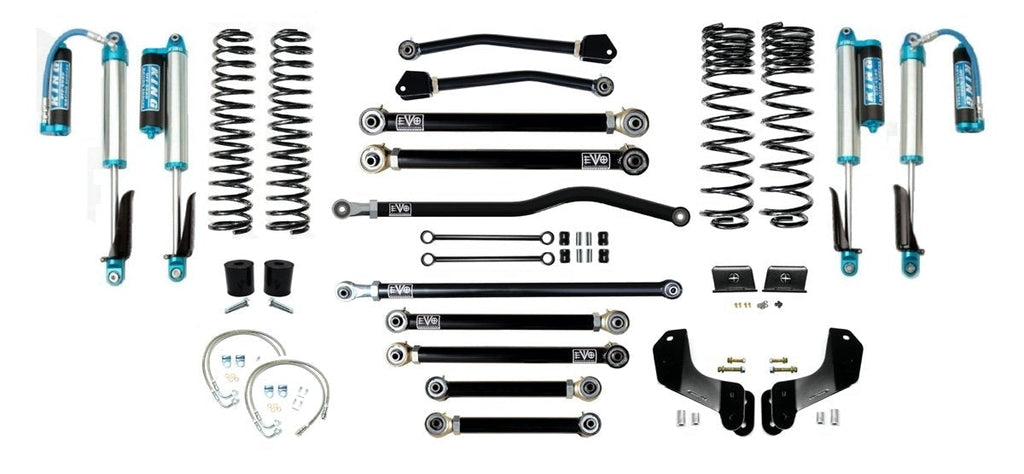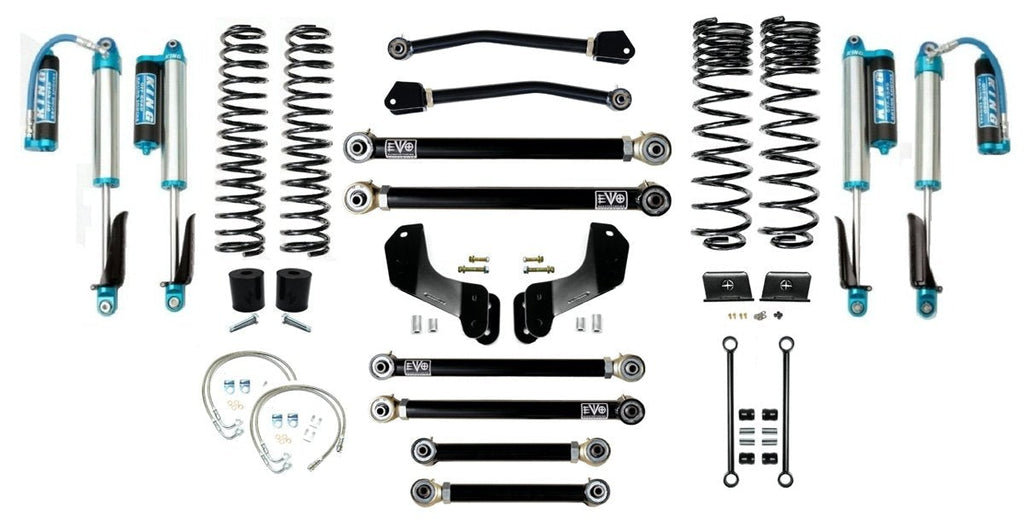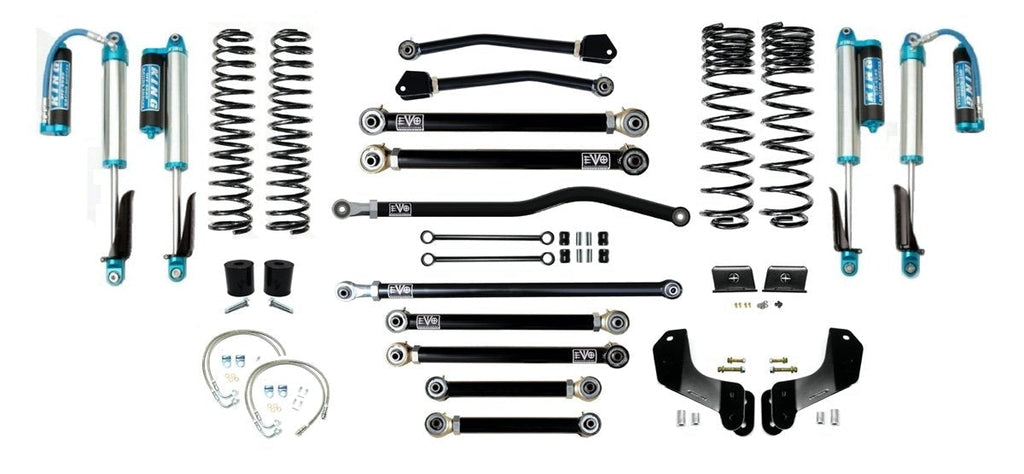 Jeep Gladiator JT (Gas) HD 2.5" ENFORCER SUSPENSION SYSTEMS FOR HEAVY DUTY
JEEP GLADIATOR JT (Gas) HD 2.5" ENFORCER SUSPENSION SYSTEMS FOR HEAVY DUTY
The EVO MFG 2.5" Jeep Gladiator JT HEAVY DUTY Enforcer Suspension Systems lift your 2020+ Jeep Gladiator JT 2.5"s. The JT Enforcer kits are specifically designed and engineered to lift your JL and maintain a performance spring rate, smooth ride quality all while retaining tow capacities. These kits allow for use of your choice of any aftermarket 2.5-5" lift shock or use of our EVO SPEC tuned 2.5" Remote Reservoir King Shocks. These kits come with a set of 2.5" lift springs specific to each corner which will keep the Jeep Gladiator JT level side to side.

OVERLAND SYSTEM:
The difference with EVO MFG Enforcer Overland systems vs EVO MFG Enforcer systems is the use of front Overland Control Arm Brackets. When lifting your vehicle your control arms at ride height have a steeper angle towards the floor which can have some negative effect/chop in ride quality. With the use of the included Overland Control Arm brackets we relocate the front control arm mounting locations at the frame. In doing this when lifted we maintain factory flatter control arm angles and while minimal, we alleviate much of the chop associated with lifting a Jeep giving even better and more improved ride quality. Also, in the use of Overland Drop Brackets we are able to engineer more performance into the front suspension to improve braking and driveline angles through suspension cycle. Both kits drive very well, the Overland Kits are better suited for less hard off-road crawling and more light off road and on road use.
INSTALLATION
The EVO MFG 2.5" JT Enforcer Kits are easy to install using normal tools. No drilling or cutting. They require no driveshaft or exhaust modifications. Simple Bolt on installation. EVO MFG JT Enforcer kits are available in multiple configurations to suit your needs and budget and are upgradable down the road.

STAGE 1 KITS
includes all the necessary parts to lift your JT 2.5"s.
STAGE 2 KITS
includes Stage 1 components as well as EVO MFG Enforcer Front Lower Adjustable Control Arms to allow for caster adjustments.
STAGE 3 KITS
includes stage 2 components as well as EVO MFG Enforcer rear upper adjustable control arms for rear pinion angle adjustment.
STAGE 4 KITS
includes stages 1 components with all 8 EVO MFG Enforcer control arms for full front and rear axle adjustments.
All included Enforcer Arms use only rebuildable free articulating spherical bearings on all ends of each arm giving restriction free travel and articulation. The included Enforcer arms are manufactured from large diameter, thick DOM Steel Tubing for ultimate in strength and longevity both on and off the trail. These kits require wheel spacers or aftermarket wheels with smaller backspacing.

TRACK BARS
Front and rear adjustable trackbars to fine tune axle center are included with PLUS "P" kits. "K" Kits include a set of 4 EVO SPEC King Shocks. "KA" Kits include 4 EVO SPEC King Shocks with compression adjusters.

Draglink Flip Kit is recommended (not included).
WARNING: This product can expose you to chemicals including silica, crystalline which is known to the State of California to cause cancer. For more information, go to www.P65Warnings.ca.gov.
SHIPMENT & DELIVERY:
We ship domestically, sorry no international shipments.  The majority of orders containing items listed as "In Stock" will ship the 1 to 2 business day. Orders requiring additional verification (security concerns, incorrect information, etc.) may need additional processing time. Items listed as "On Order" or "Out of Stock" typically ship by the estimated ship date listed on the product page. These estimated dates are not guaranteed and are subject to change periodically. Our customer service representatives monitor backorders on a daily basis to ensure your order ships as soon as possible.The delivery time of your package primarily depends on the shipping carrier and the service level selected. We ship USPS and/or FedEx ground with no signature required for delivered packages.  Please keep in mind most carriers do not work on weekends or major holidays so if your wanting it for a specific trip or timeline be sure to consider that when ordering.  When carriers quote shipping days, they are referring to business days. Business days are defined as Monday through Friday, with the exception of holidays observed by the selected parcel carrier. To avoid delays, ensure your address is correct and current.  For specific delivery estimates, you can usually find detailed information on the carrier's website or you can contact us for specific details.
OUT OF STOCK:
If an order is placed for a product that is labeled "On Order" or "Out of Stock", we will keep your order in our system and ship the item as soon as it becomes available. Off Road Evolution reserves the right to split your order into multiple shipments without notification in an attempt to try and get your products to you sooner. If you wish to split your order voluntarily due to an out of stock item, please notify our customer service department and be aware that additional shipping charges may apply.
DAMAGE or LOST SHIPMENT:
If your shipment becomes damaged or lost in transit, please notify us immediately. Do not discard any boxes or packaging materials that were included with the shipment. In order to fully process a damage claim, all original products and packaging materials must be provided. Off Road Evolution is not liable for damage claims that are denied due to customer negligence.
CONDITIONS OF USE:
By visiting or purchasing from Offroadevolution.com, you agree to abide by our terms and conditions, including those set forth on this page. Any revisions to our Shipping Policies will be posted on this page and any other page we deem necessary to inform our users of any changes made. We reserve the right to modify our Shipping Policies at any time. Your continued use of the Site following any policy revisions constitutes your acceptance of and agreement with the changes made.
STANDARD RETURN POLICY:
Unless another return policy is indicated, products sold by Off Road Evolution are covered by this Standard Return Policy and may be returned within 30 days of the original invoice date.  Customer must notify Off Road Evolution prior to returning.  A refund will only be made if your request is obtained within seven (7) days of receiving the item(s). Items being returned after the seven (7) day period will only be eligible for in-store credit.   Due to the dangerous and stressful nature of racing, off-road, and performance vehicles, no returns will be accepted on opened, installed, or otherwise used products. Failure to comply with the terms stated herein, may result in delayed return processing and/or refusal of returned packages. Items that were shipped incorrectly, have been damaged in transit, or which require warranty repair or replacement are not covered by our Standard Return Policy and must be reviewed by our customer service department.
*ALL RETURNS MUST BE RETURNED TO OFF ROAD EVOLUTION AND ARE SUBJECT TO A RESTOCKING FEE OF UP TO 25%. 
REFUSED ORDERS:
Refused or undeliverable orders that are returned to our facility will be processed like a standard return; this means all shipping costs, and any return-to-sender fees assessed by the shipping carrier, will be deducted from the product refund. Off Road Evolution reserves the right to deduct these additional costs, from the product refund. If you would like to return an item it is recommended that all shipments be accepted and then sent back following our standard return process. Refusing a package has the potential to have it refused, cause delays in return shipping as well as incur additional shipping charges.
NON-RETURNABLE PRODUCTS:
Off Road Evolution often sells items that are not eligible for return. These items include tires and wheels that have been mounted, any electrical items including lights, custom items and special order items.  These item sales are considered final and no returns or refunds will be granted. The buyer assumes responsibility for any and all risks that may be associated with purchasing said items.  Should any items prove defective in either quality or performance after the sale is complete, the buyer assumes responsibility for the cost of all necessary servicing or repairs and agrees to absolve both Off Road Evolution and the manufacturer from any and all responsibility, unless otherwise required by law.
Off Road Evolution also sells unique or custom order items that are often times made to order and/or are considered special order items. These items are ordered in on a case by case basis. Consequently custom or special order items are not eligible for returns or exchanges. The buyer assumes responsibility that the items ordered will fit their needs.
PRODUCT WARRANTY:
Off Road Evolution does not offer any type of warranty coverage for defective products. However, the majority of the products available through our website are covered separately under a manufacturer's warranty. If you recently purchased a product from Off Road Evolution and are concerned about the fitment or performance of your item, please contact us for assistance. If we suspect your product does have serious defects, we recommend you contacting the manufacturer directly for information regarding product eligibility and specific terms and conditions of warranty coverage.
Off Road Evolution does not cover miscellaneous expenses including, but not limited to labor costs for removal and installation of a defective part, materials, lost time or wages, towing, lift, dock or storage fees. Off Road Evolution shall not be liable for any incidental or consequential damages as a result of product defects.
CONDITIONS OF USE:
By visiting or purchasing from Offroadevolution.com, you agree to abide by our terms and conditions, including those set forth on this page. Any revisions to our Return Policies will be posted on this page and any other page we deem necessary to inform our users of any changes made. We reserve the right to modify our Return Policies at any time. Your continued use of the Site following any policy revisions constitutes your acceptance of and agreement with the changes made.